Operational excellence in the healthcare industry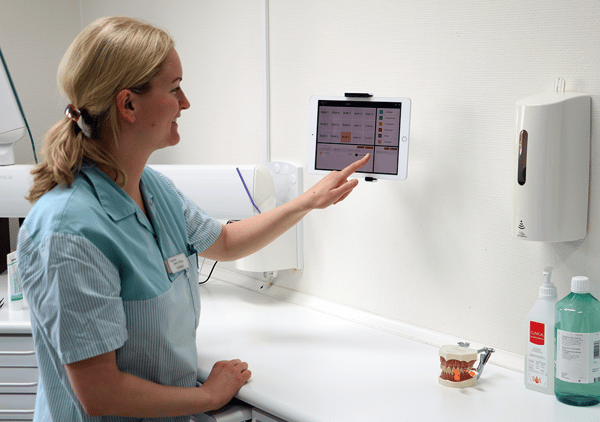 Patient safety in mind
Monitor your healthcare business with the Safety Cross. The tool improves awareness and discussions around patient safety and reduces medical errors.
Continuous improvement
Enhance your daily huddles with digital boards that lets all team members access all relevant information in one place, even if you are not in the same location.
Resource planning
Free up more time to focus on your patients. Use Mevisio to plan and allocate resources effectively, and see resource availability.
Let your imagination lead the way
Mevisio's interactive boards can be used for a wide range of applications within the healthcare industry. Your imagination is the only thing holding you back. Discover how Mevisio aligns with your business.
How to succeed with Lean Healthcare
Due to past and projected future cost increases, healthcare systems throughout the world are under pressure to deliver more care for less money. Lean Healthcare is all about applying the principles of Lean to the healthcare industry in order to improve the daily operations of hospitals and other healthcare providers. Done right, this gives staff the opportunity to focus their time and resources on both patients and activities that create value for stakeholders.
Lean can be applied in all parts of the organization, not only in the clinical setting. By focusing on continuous improvement and staff involvement, every process can reduce waste and increase efficiency. At the same time, the Lean method gives frontline staff the tools needed to improve everyday operations, combining their experiences with a structured operational approach.
Digitalization in healthcare
Many healthcare workers feel that the digital tools used in their industry have fallen behind the evolution of systems in other industries. In many cases, the large and complex platforms used in the healthcare industry fall short in terms of integrations and intuitive user interfaces. They have simply fallen behind the evolution of systems in other industries. To solve this we see a wave of technological innovation that transforms the healthcare industry in many ways.
With Mevisio's data visualization software you get a tool that can be configured for many different purposes and still follow our core principles: simplicity for the end user and flexibility in every unique workflow.
The Safety Cross - medical error tracking
Mevisio is used by healthcare facilities to monitor and track medical errors in a model called the Safety Cross. In the manufacturing industry, this is a well-known model for highlighting employee safety and visualizing accidents on the factory floor.
In the healthcare setting, the model is used to facilitate the discussion around medical errors as a way to improve the overall patient safety. By using proper categorization and labelling, the historical data is available for analysis, giving valuable insights about what areas should be subject for improvement initiatives.
After adopting the Mevisio platform, we have seen an increase in incident reporting and a greater sense of commitment and involvement among employees.
Explore all solutions
Discover all of the possibilities for tracking your company's performance and goal alignment
Take complete control of your business with Lean Manufacturing and Mevisio's interactive data visualization software.
Keep track of your daily, monthly and yearly business goals by using Mevisio for your daily operations management.
Use Mevisio to keep the focus on strategic priorities and communicate objectives in all tiers of your organization.