Align, decide and act with Mevisio's data visualization platform
Custom Features
Flexible
Create customized boards to suit your organization's unique needs. Start from scratch or use templates.
Elegant
Gain an overview of your business quickly, identify problems easily and prioritize issues seamlessly.
Intuitive
Access and update information about your organization's targets, statuses and projects in real-time.
Bringing Lean into the digital era
The Mevisio platform incorporates the Lean tools that many businesses use today with intuitive, powerful escalation and data-sharing capabilities that can only be realized in a digital solution.


See your business at a glance
When an entire organization understands priorities and responsibilities at individual and team levels, it's easier to build trust, empower individual team members and focus on shared goals.
Mevisio's software offers high levels of customization and lives in the cloud. Use the platform for your daily management, continuous improvement, 5S audits, resource scheduling and project management.
Also, visualize your data intuitively using a set of modules that you arrange in a desired layout. Then create tiered teams to align Mevisio with your organizational structure and ensure that every team can identify problems and opportunities easily.
Manage day-to-day operations efficiently
With progress tracking, issue escalation and delegation as well as dynamic communication tools Mevisio helps you to ensure that communication and process gaps are identified and resolved quickly.
Strengthen trust in your organization
Improve transparency and strengthen trust in your teams using tools that help you align goals and promote continuous improvement throughout the entire organization.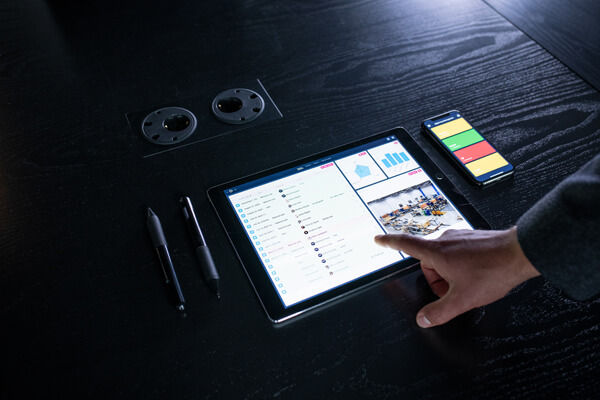 Features, capabilities, and support
Hardware
Keep your organization aligned, no matter where you work. With Mevisio you can access your data from your desktop, large daily meeting touchscreen, laptop or tablet.
Integrations
Access data in the right way and at the right time. Our data visualization platform is highly configurable, so you can integrate it with your other systems.
Security
Mevisio is designed to be secure from the ground up. We follow industry standards and best practises for data management to make sure that your data is safe.
Low-Code Development Platform
Low code development platform Mevisio is highly customisable due its low code nature. We offer a flexible video course if you want to build your own boards. No technical skill set is required.
Implementation Project
Our team of implementation specialists work with you to build visualization boards, customized to your specifications and to support your existing workflows.
Support
Our team supports both ongoing board development requests and answering questions from clients who have been through the board developer program.