Experience the intuitive user experience of Mevisio
Easy to access
To get started with Mevisio you only need two things: access to the internet and a web browser.
Made for touch
Mevisio is built with touchscreen in mind, but shines no matter where you're viewing your data.
Mevisio app
Send data directly from the shop floor to your boards using your mobile device and the Mevisio app.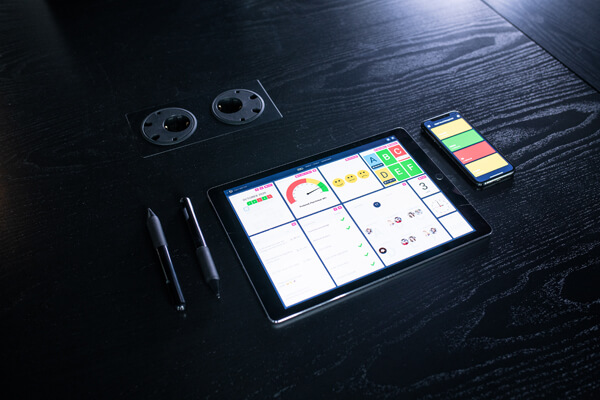 Mevisio in the cloud
Mevisio is a cloud based service. Therefore you can access your data visualizations board from your desktop, smartphone, tablet, or large touchscreen.
Large screen use
The Mevisio platform is built to work seamlessly on a large touchscreen, enabling an interactive meeting where all team members can participate in the daily huddle in front of the board.
The specification on a touchscreen depends mainly on how many people will attend meetings at the screen, and on how many hours per day it's used.
Desktop use
Using Mevisio from your desktop is common for meeting preparation and for accessing the shop floor boards from the office. It is also common to build boards in Mevisio that are only used on desktop.
Tablet and smartphone use
Mevisio is available as an app in AppStore and Google Play. In the smartphone app, forms are available for sending new information to the boards, for example improvement suggestions or audit score. The tablet app features the same functionality as when used in a browser.
Mevisio: a digital solution
Log into the platform using your laptop, desktop, tablet or large touch screen, and update with a simple click. Contact us to learn more about the intuitive user experience of Mevisio and for guidelines on how to get the most out of the platform.